Racing in Tumut
Follow Tumut Races
Join our email list to keep in touch or follow us on Facebook.
Tumut Turf Club AGM
5:30pm, Saturday, 17th August 2019 at the Tumut Golf Club.
All positions will be declared open.
We welcome any interested people who would like to join the Turf Club Committee to come along.
Please call Alicia on 0407 643 935 for any enquires.
---
Please vote today for the Tumut Racecourse Grandstand Restoration project.
Voting closes on 15th Aug 2019.
To vote online, go to: mycommunityproject.service.nsw.gov.au
or visit the Tumut Service NSW centre.
We are keen to see the completion of the works on the grandstand to restore it to its original state. Thanks!
---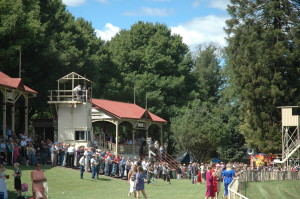 Come down and discover the picturesque Tumut Turf Club. Tumut Turf Club is one of the oldest Race Clubs in NSW having commenced racing in the 1850′s.
Two magnificent grandstands are still the major features of the Tumut racecourse today.
Along with being the venue for our wonderful annual race days, the racecourse is also home to the Harvest by the River coffee shop which is open every day.
Why not join the Tumut Races mailing list to keep up with news and upcoming events.